Get to know the districts of San Sebastián!
If I had to pick what I like the most about San Sebastián, it would be its diversity of landscapes, vibes, architecture and even people from one neighborhood to another. San Sebastián has a lot to offer and for every taste.
Joins us for a virtual ride through some of San Sebastián neighborhoods.
El Centro
It's indisputably the most famous district of San Sebastián and part of the emblematic picture of the city with La Concha Bay, the City Hall and Buen Pastor Cathedral.
This area is also called " Romantic Area" for its architecture " à la française" which somehow reminds some Parisian streets. María Cristina bridge is a perfect example as its obelisks are very similar to the ones on Alexandre III bridge in Paris.
The whole area is very pleasant, you can walk by the Concha or go shopping in Calle San Martin or on Avenida de Libertad where you will find lots of shops (from international brands to specific luxury boutiques).
Here's our top 3 selection of places to visit in the area.
Plaza Gipuzkoa
It's a mini garden in the heart of the city surrounded by elegant buildings such as the Diputación.
It's a very centrical place and lots of buses are heading from/to this place, it is very convenient for a meeting point with friends for example. We recommend visiting this square for Christmas – we just love how they decorate it every year!
El Boulevard
This street is the border between el Centro (City Center) and la Parte Vieja (Old Town). If you want to feel like a local there's nothing like getting an ice cream there at night – ice cream parlors are open until midnight in summer. They have so many flavors and let you do all the combinations you want, be creative!
My favorite one? Brownie Chocolate and Mango!
San Martin Mercado
It is a local market that offers all year long local and fresh products (meat, wine, vegetable, fruits, cheese and much more…). If you like cooking, you'll love that place and being able to talk to the local producers.

Downstairs you'll also find a small supermarket – very convenient if you're living in the area.
Every Thursday from 8PM, the market suddenly changes, stalls close and a stage appears in the middle of the market… it's "Gastro Pote " time: a free concert with a different band every week! You will be able to get a glass of wine or a beer with some delicious empanadillas and even sushi. Yummy!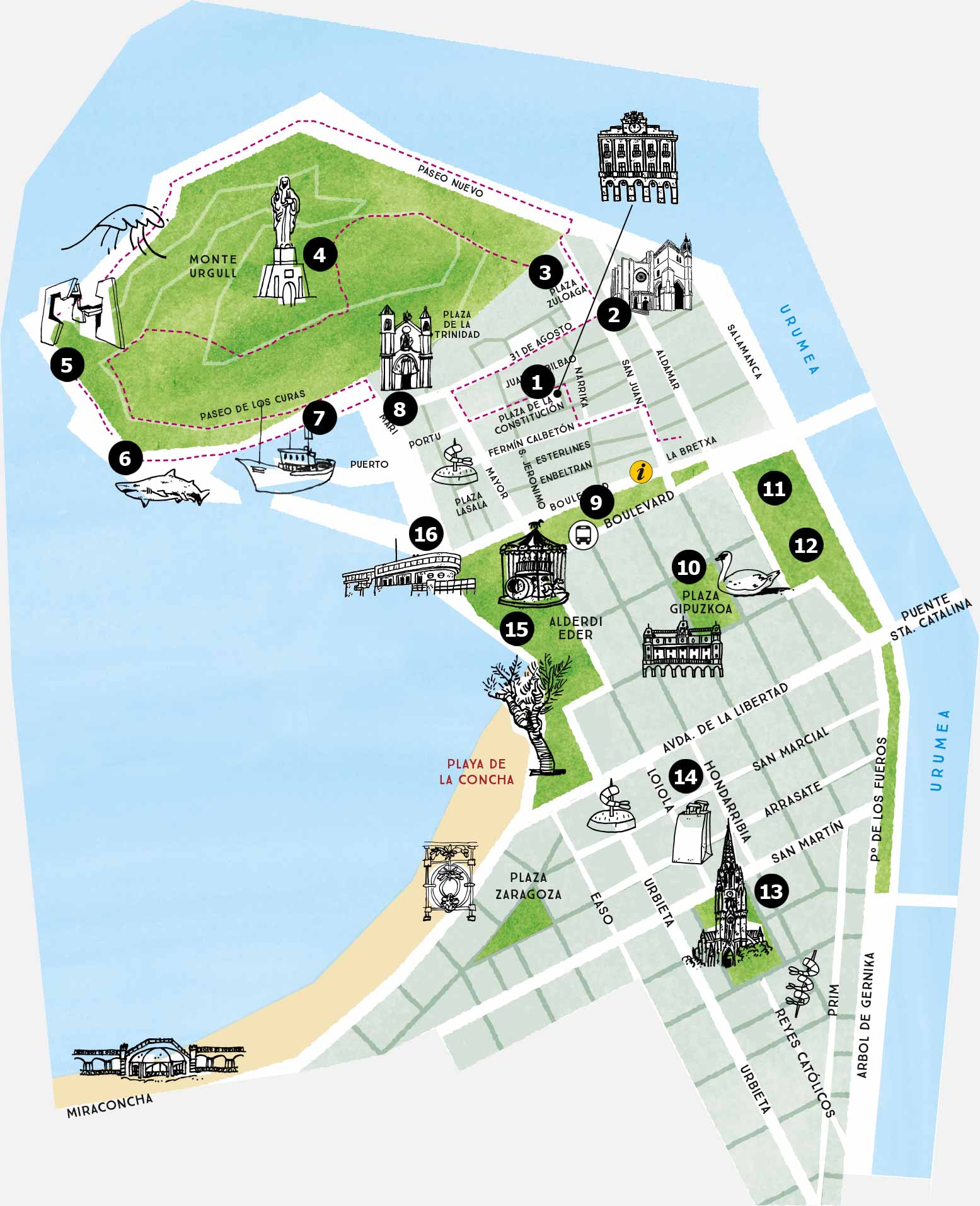 Gros
Gros is one the most dynamic and trendiest area in San Sebastián. It is famous for its surfing beach, but it is much more than just a surfing area it has also a great cultural offer. For example, the Kursaal (Congress center) hosts every year the International Film festival of San Sebastián.
Gros is also famous for a well-known tradition among young people that represents quite well San Sebastián way of life– the "Pintxo Pote". Every Thursday local people and tourists like to meet in bars and have a pintxo and a drink (pote) for only 2€ .
Bar tenders' creativity in Gros has no limit and new traditions have came up these last couple of years: such as Pizza Pote with the same concept
Our top 3 places in Gros are:
Peña y Goñi y Zabaleta streets
It's the temple of Pintxo Pote!
Ulia
Close to Gros district, you'll see a small hill called Ulia, on top of it a mirador offers you a breath-taking view of the city. You will be on top of the hill in around 20 minutes and lots of hikes start from there (until the lighthouse or Pasaia for example).
Sagües

At the end of Gros area, you'll find Sagües area. It's a lovely place where you'll be able to find all types of people: young surfers, old people, families, local people and tourists. It's one of the best spots to enjoy a sunset. They usually organize concerts and all kinds of events all year long.
Secret tip just for you: we like to take away food from one the various bars in Gros and eat at the beach with our friends.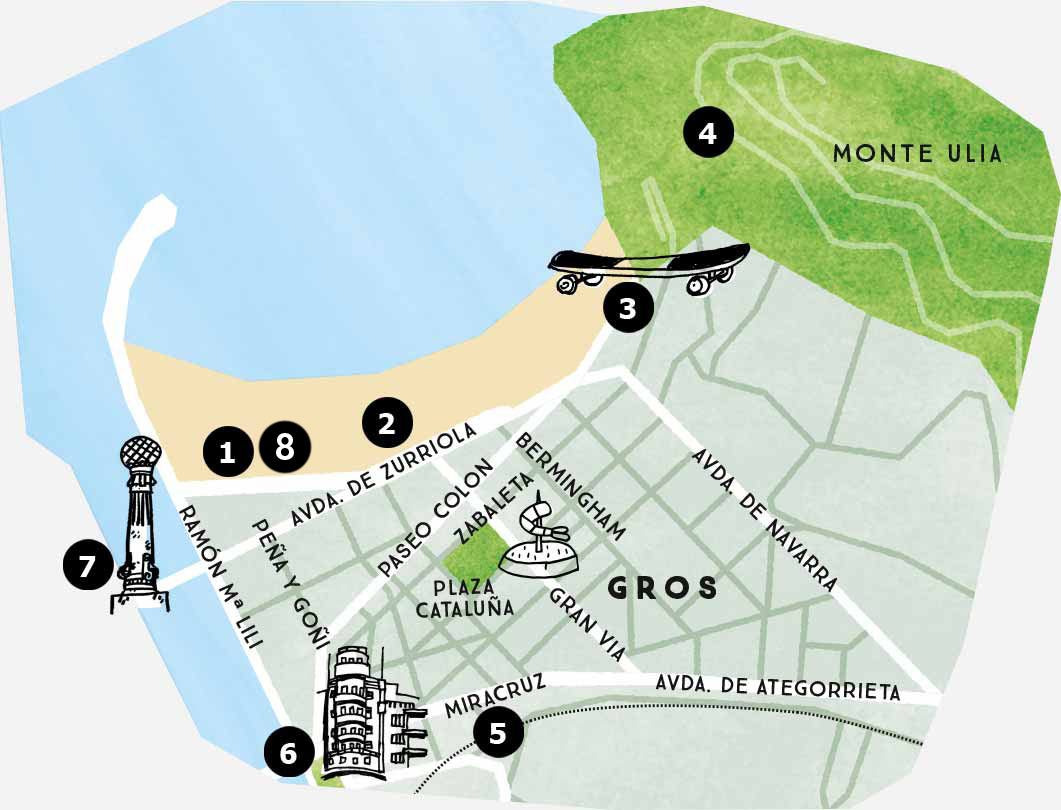 Egia
Egia is our favorite area in San Sebastián and that's why our facilities are just in the middle of Egia – one minute away from Cristina Enea Park and train/bus stations.
Egia is often compared to Greenwich village or Soho, you just need to walk around to understand why. Egia has a special personality with artistical graffiti on the street, impressing cultural offer and vibrant day and night lives with lots of events and concerts.
Our top 3 places in Egia is:
Tabakalera
It's San Sebastián cultural centre. Just like the Guggenheim we like to say that the visit of Tabakalera starts from outside. The building is impressive, recently renovated and is a former tobacco factory.
Inside it is a beehive of cultural activities: workshops, libraries, movies, coworking spaces, video making studios and even concerts and cooking laboratory.
Don´t forget to visit the last floor and enjoy the view from the rooftop.
On the ground floor we also recommend their cafeteria and their Frappucino, I'm pretty sure you'll find some of our students there and even some of our staff.
Cristina Enea Park
The green lung of the city that connects different areas of the city. If you like running and want to forget all the noise of the city – enjoy this oxygen bubble in the middle of the city. Cristina Enea Park is always a surprise with the quantity of flowers and animals you'll be able to see (even peacocks and swans). It's a very recommendable place all year long, my favorite season is definitely autumn when all the leaves turn brown, yellow and red.
Lacunza IH
The last but not the least, how not mention our Spanish School? Lacunza IH is located on Camino Mundaiz just in front of the Cristina Enea Park and Tabakalera.
We have spacious and modern facilities: 17 classrooms with air conditioner, a social area with coffee and snack machines and sofas and an outdoor terrace where students can read, study and share moments together such as barbeques parties.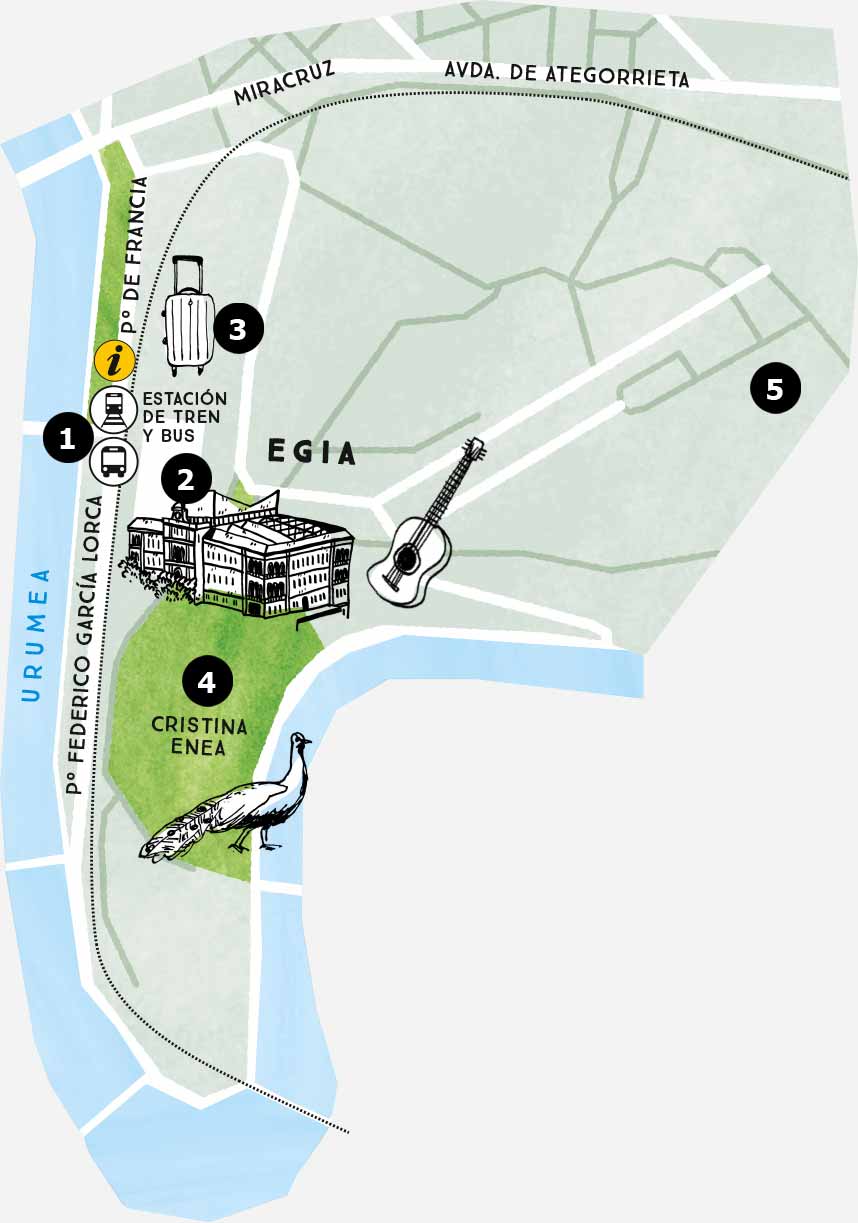 El Antiguo
El Antiguo is located on the western part of the city. It's very easy to get there walking or by bike along the Concha Bay, you can also take the bus from city centre.
It's a less touristic area but we really invite you to visit it and enjoy a more local atmosphere. El Antiguo has its own beach: Ondarreta and its proper way of life.
Calle Matia
The main street of the area and the busiest one with lots of bars and shops. Go there during a Real Sociedad game (our local soccer team) and you will never want to go somewhere else.
Miramar
El Palacio Miramar is a unique place. It is a 19th century mansion with a fascinating history.
Miramar always draws the attention, the building itself is remarkable with its British style and offers a stunning view. It has been a summer residence for former kings of Spain since Queen Isabel II chose San Sebastián to spend her summers in 1893 falling in love with the city and its climate. From then, San Sebastián quickly turned into a popular destination for kings and queens all over Europe.

Igueldo

Some minutes from there, you cannot miss the Monte Igueldo – a magical hill that brings you some decades ago. You will be able to climb with an authentic funicular you can also go there walking) to discover a mini vintage theme park with a mini roller coaster and a haunted house! It is a perfect place for families, and you can also go there with your friends! Fun guaranteed!
View is breathtaking and of course there's a bar on top of it to have a drink!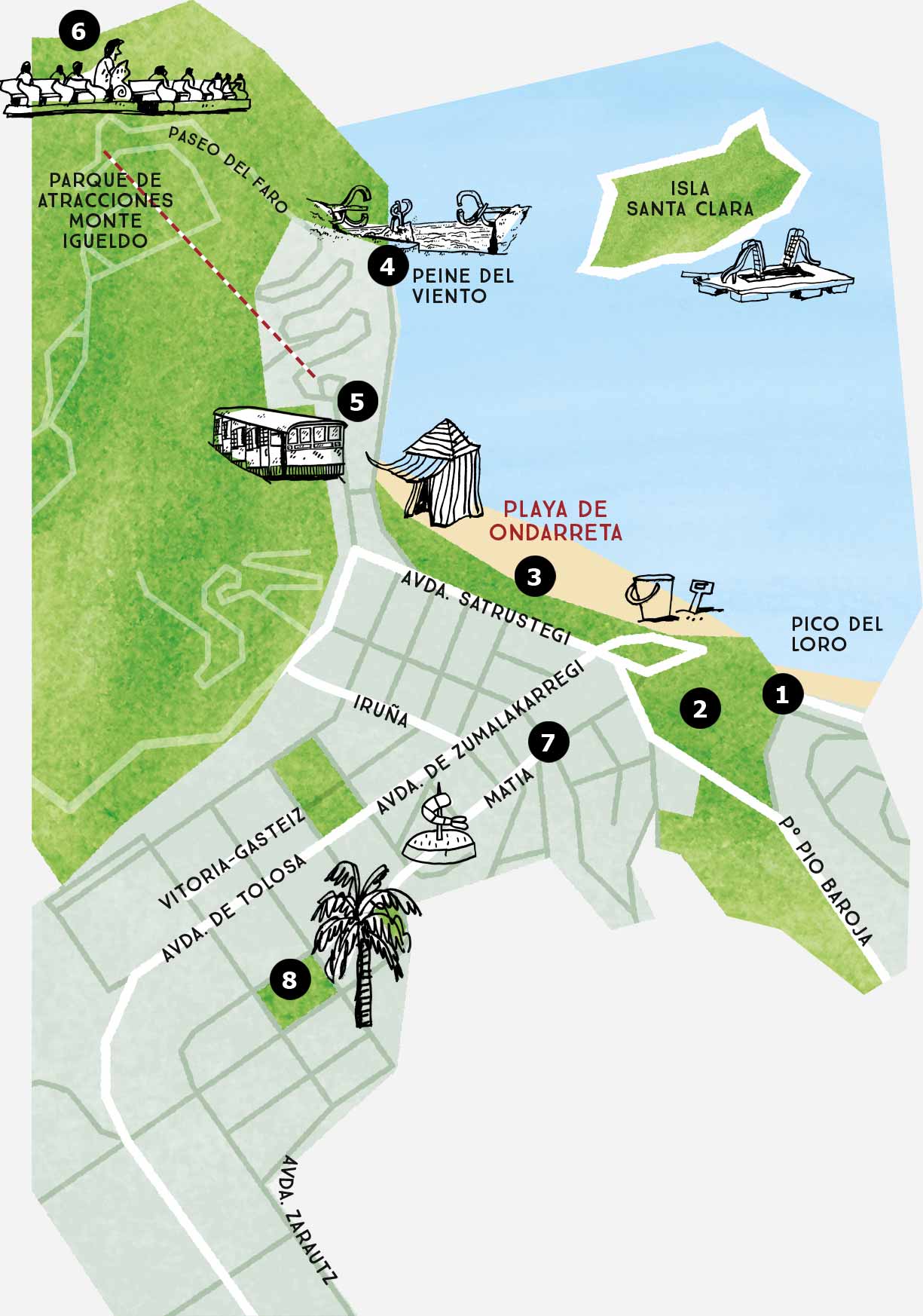 There are lots of other beautiful neighborhoods in San Sebastián like the Old Town, Amara, Loiola, Aiete… that we will visit some other day.
We hope you liked this virtual tour and we wait for you in our school with open arms!
We recommend you to check our City Tourism Department webpage with lot of additional information